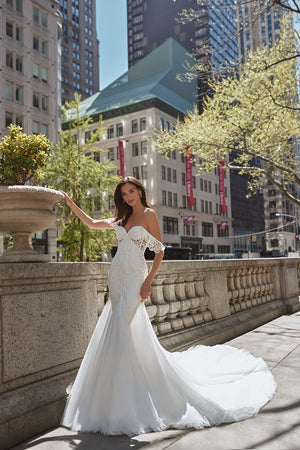 WONA
Rochelle
Sale Price Purchase Price $3,000.00 Usual Price $4,200.00 Unit Price / per
This luxurious off-shoulder lace-on-satin sweetheart mermaid gown boasts unique cutouts that accentuate the figure. 
Rochelle is part of WONA's Love in the City 2022 Collection and exclusively available in Singapore through L'Atelier Carte Blanche.

More about the collection by WONA: Love in the City
Living in a dramatic pace of big city, accepting new challenges every day, feeling strong and daring — that's how we imagine a modern bride. This collection was created to the sounds of New York City, as versatile as it can be, that never sleeps and never stops its fuss. On the streets of this city, the urban bride appears confident and fragile, courageous and tender, outshining everything around. The special feature of the collection is hidden in detachable capes and boleros, that enrich a single dress with double sensation. Dresses of the collection are featured with lightweight fabrics, large variety of embellishment, combination of colors and experiments with length.