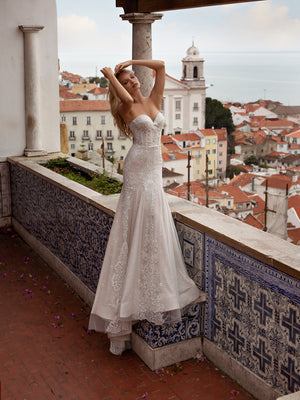 Eva Lendel
Bexley
Sale Price Purchase Price $1,800.00 Usual Price $4,400.00 Unit Price / per
Bexley by Eva Lendel, from her collection, "Lisbon Vibes".
Bexley is a strapless blush-coloured gown with a flattering fit-and-flare silhouette and sweetheart neckline. Carefully considered symmetrical lace patterns define the look of this piece. The addition of a bolero lends a soft finishing touch and extends the length of the train.

The "Lisbon Vibes" collection is the latest bridal creation of Eva Lendel, made with exquisite fabrics for amazing comfort and effortless grace. For the confident bride who knows when to put herself first.