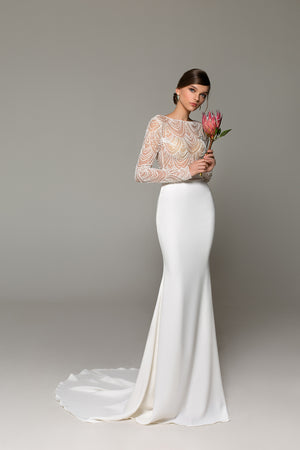 Eva Lendel
Solange
Sale Price Purchase Price $2,200.00 Usual Price Unit Price / per
Solange by Eva Lendel, from her collection, "Bohemian Flower".
We get fabulous art deco vibes off the intricately beaded patterns on Solange. The elegant U-shaped back, long sleeves, and high boat-neck design draw attention to the back while the svelte sheath silhouette finishes with a sweep train for a touch of flair.
"Bohemian Flower" is a versatile collection represented by both delicate dresses decorated with lace, and elegant classic silhouettes constructed with exclusive fabrics. Each dress brings out the character of every bride and perfectly complements her individuality.